About Darryl's Garage
Hi, I'm Darryl and I'm an old car geek and it seems I always have been and always will be. Welcome to my life-long hobby; restoring, collecting, maintaining, driving, researching, writing and dreaming about old cars. I'm not a professional mechanic or bodyman, but my father was and this is the world I grew up in. From boyhood growing up in Northern Colorado, I had access to the correct tools and guidance from a professional, I saw firsthand how things that look beyond repair are actually quite fixable, it just took the right tools, practice, knowledge and the will to do it right. In fact I would say that the people I know who do this type of work for a living are guilty of making it look easy, and therefore are greatly underappreciated, especially when customers see the bill and think they're getting ripped-off.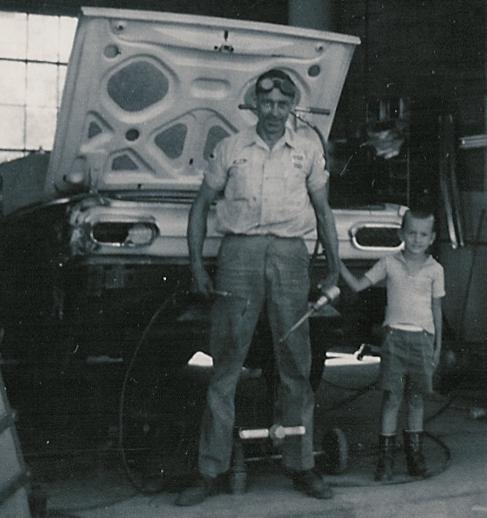 I bought my first car at age 15 in 1975, Dad drove home a wrecked '62 Beetle sedan trade-in from the Dodge dealership he worked at and I paid $100 for it (and it ran!). It had a nasty blue "Earl Schieb Special" paint job over a beautiful original turquoise, as shown by the spotless interior. Check out the my first 1200cc engine that came in my first Bug with the one I restored in the '63 Cabrio in my collection, pretty much exactly as I remember it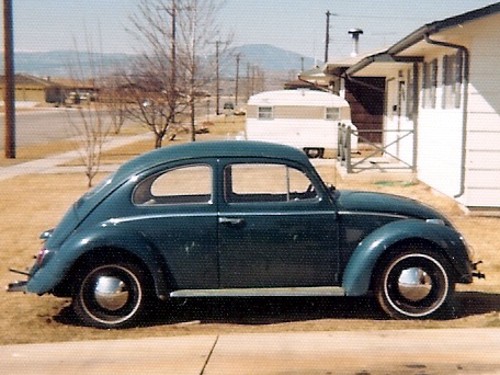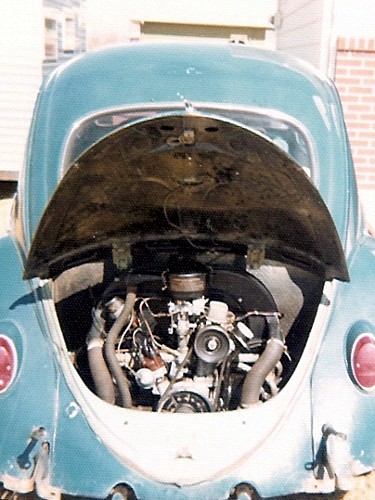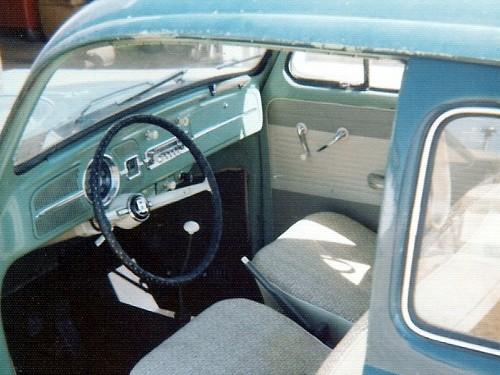 I spent an entire summer as an apprentice to my Dad, a master autobody man who once had his own bodyshop, hunting down a new hood and left front fender, pounding out dents, welding up cracks, sanding several coats of paint off it with a Black & Decker electric sander and discovering the wonder of "BONDO" (now a term of disgust). Dad and I painted it out on the driveway of the house across the street (good old Mr. Cheek, another car restoration guy with an air compressor), fire-engine red/black two-tone with some leftover (free) acrylic enamel which Dad brought home from the bodyshop. The fact that dark clouds were appearing and a light shower of rain required hunting for water drops on the fresh paint and "dobbing" them up with my Dad's handkerchief didn't dim our family enthusiam to get that Bug painted red. Gotta love my Mom's "big" 1975 hair and how skinny I was at 15!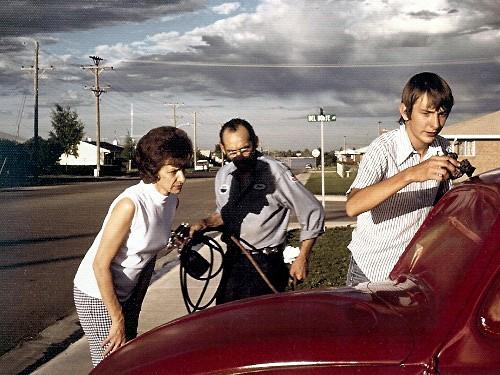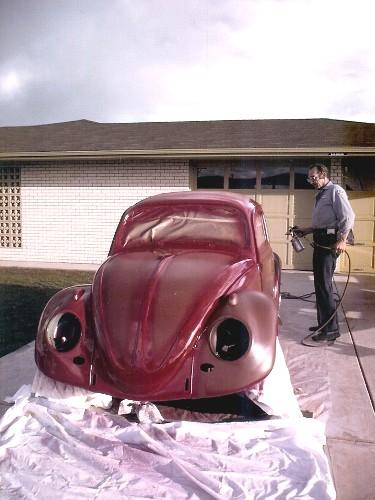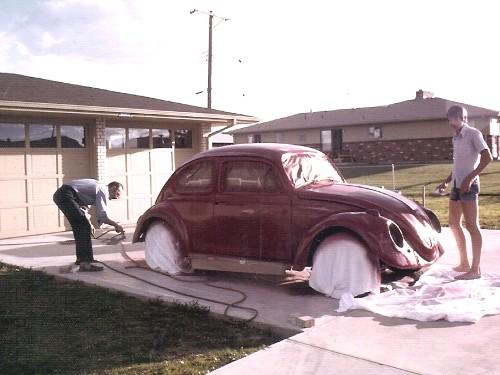 The beautiful stock turquiose and gray interior was transformed to black through the use of seat covers, black vinyl dye, "simulated" vinyl top spray (for the faux-leather dash) and vinyl wood-grain plastic adhesive film left-over from our family station wagon's mishap from an older sister sideswiping a gas pump. Wooden dash knobs, an in-dash tachometer and Craig 8-track player under the dash finished out the custom touches. I even sewed a black perforated vinyl headliner for the roof. I was really proud of how my $100 investment turned out, now I'd kill for the original interior I completely destroyed! In the end, after a lot of hand-applied rubbing compound to remove the "orange peel" the red paint shined right up and with a pair of later model front and rear bumpers I scrounged from the local VW Hippie's barnyard junkyard, I thought it was the coolest car on the planet.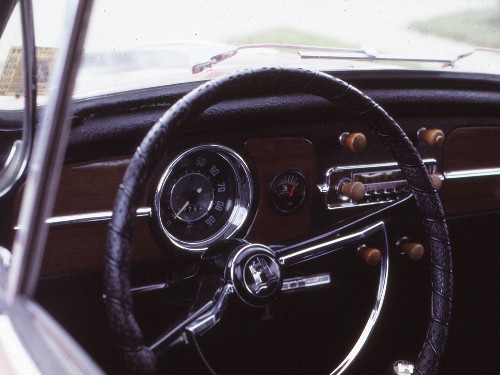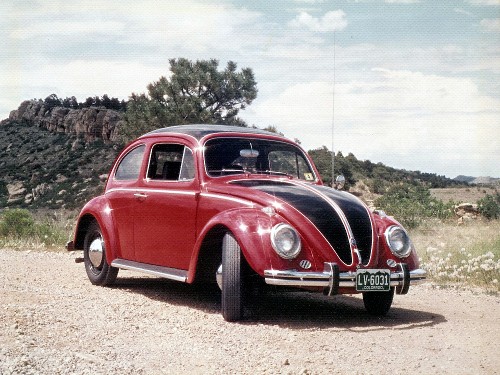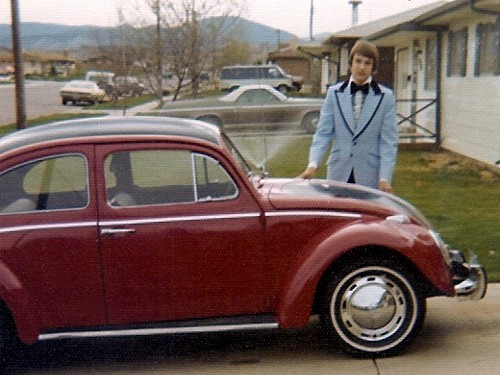 My passion for and knowledge of cars also grew exponentially during this period in my life because upon turning 16, I found a job at the local Phillips 66 service (note: not a "gas") station. A "service station" was like a modern "gas station" but instead of a "mini-mart" you would find two full service bays with hydraulic hoists that came out of the ground to lift the car 6' into the air! Besides a full compliment of tools, this service station also had a tire machine so I learned the dark art of mounting tires onto wheels, including split-rim truck tires! Best of all there was a mineral spirits fueled steam cleaner which allowed me to clean the underside of my VW to the point you could eat off it! As my skills progressed, I became the official after-hours AAA tow truck driver, my parent's phone number was published in the AAA directory and they still got phone calls for tows at 3 AM well into the 1990s! Working at a place that fixed cars for profit was one of the most educational times in my life and at the expense of my high school GPA, I learned more about cars and life lessons such as getting along with and helping strangers in that two year period than I did in classes. Working at the Phillips 66 station was also the point in my life I was exposed to Porsches. Driving many different cars was one of the biggest joys to this job and I remember taking customers cars out for "test drives" (read: joy rides). I fondly remember at 17 years old, discovering a 1970 911's red-line is nearly 70 MPH in second gear! Porsches were so similar to Volkswagens, yet so much faster! We were driving by the old "gas" station (it now has a "mini-mart") in 2010 and the old wrecker I drove was parked outside so I had to get my picture taken with it, looks like we've both aged about the same!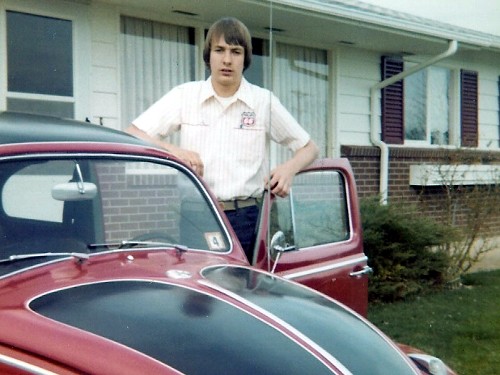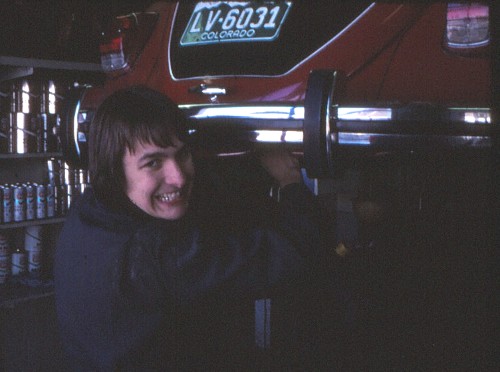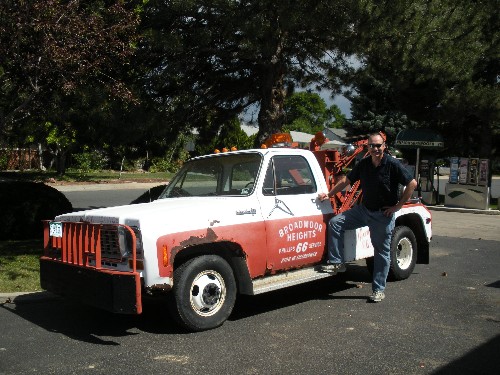 My first car purchase came at the point in my Dad's career when he was a professional Mopar mechanic who had caught the VW "bug" years before when he built a "bush-buggy" from scratch out of fiberglass and chickenwire. Here's a picture of Dad's "bush-buggy" with me behind the wheel and my Grandpa Clark in the passenger seat, you can just make out the profile of the VW Beetle front quarterpanel, cowl and hood behind those '40 Ford headlights. While it was quite the contraption, it instilled a love for listening to the sound of a Volkswagen engine with the wind blowing through my hair! I'm sure Dad had visions of a cool dunebuggy on my Bug's floorpan but I talked him into helping me restore it to become something reliable that would get me to and from the skiing and backpacking in Rocky Mountain National Park a mere 35 spectacular twisting, winding miles from our home. Dad pretty-much walked me thru an entire engine rebuild and I still keep the workshop manual where he wrote down all the bearing sizes quoted to him by the machine shop guy. We also got an indoctrination using new exhaust valves in old valve guides as my newly rebuilt motor sucked one (#3 cylinder of course) when I was drag-racing another Bug!
After high school and with my Dad, being a Mopar man, my second car was a '70 Dodge Challenger. Working fulltime and going to college, I needed reliable, cheap transportation WITH A GOOD HEATER, so Dad brought home a slant-6 powered Challenger trade-in from the dealership he worked at that cost me $275. It needed a total makeover but after again doing all the paint prep myself on the front driveway, a coat of metallic blue Emron paint and all NOS trim items Dad got through his employee discount, I had a sweet looking ride I was very proud of. I had the seats reupholstered, a top-end job on the slant-6 and a set of Craiger mags. One bad day in January of '80, I was caught in a ground blizzard coming home from skiing and involved in a 50-car pile-up. Total my Challenger? Never! A $375 rear clip and a long weekend on the driveway of my parents house and it was saved for another go and getting me through college! With a Dad like mine, there was no problem sweat equity couldn't solve cheaply. I'm also amazed at what a skinny nature boy I was back in the day, I loved being out in the sun, now I look like an old leather handbag!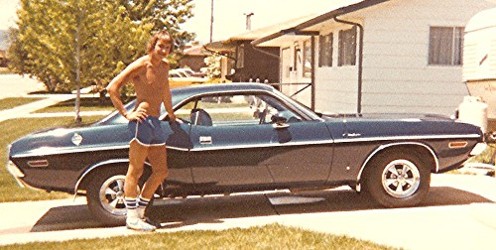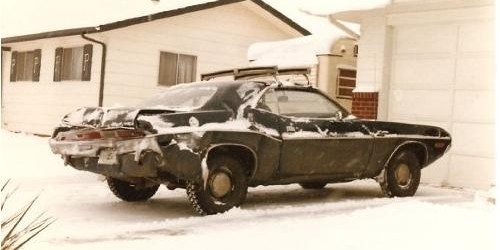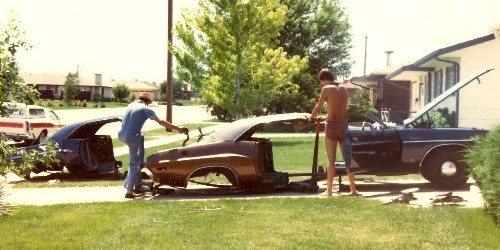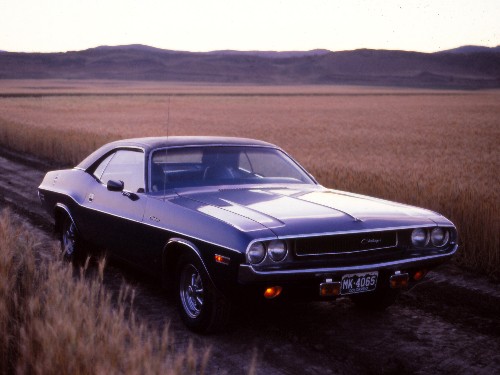 Since I worked my way through college, working the graveyard shift in an industrial manufacturing job at Kodak's Colorado Division manufacturing the famous color print paper with the "Made by Kodak" printed across the back, I made enough money to have a couple cars at once, hence the start of my "car hoarding" tendency. While my Challenger was "laid up" after the wreck, I purchased an amazing '71 Jeep CJ-5 with a 225 V-6 and hi-low overdrive unit on a 3 speed transmission plus a PTO winch. Living in Colorado with a Jeep was fantastic, however when I nearly rolled it (and almost killing myself and my future wife) climbing the local Northern Colorado logging road playground called "Storm Mountain" and breaking something expensive everytime I went off-roading, it became a question of affording tuition or Jeep parts so I sold it once I got my '70 Challenger back on the road. My Challenger turned out so nice, I hated to park it in student parking on Colorado State University's campus so I talked my Dad into helping me buy a '76 Honda CVCC Civic at the Denver insurance auctions for $900. The Civic had been rolled over in snow at low speed so the roof was caved and the hood and windshield needed to be replaced but it was mechanically sound with low mileage and nothing a little sweat equity on the driveway couldn't pound out and BONDO back to "like it never happened" condition. A quick repaint in the original orange color and I was on the road and the Challenger sold for enough left over for a year's tuition and books. This is the point in my life where I fell in love with Honda products and also married my college sweetheart who also owned a brand-new '81 Honda Civic and had a great job as a nurse. As I neared graduation, I sold the '76 CVCC for 3 times what I paid for it and bought my first brand-new car, a 1985 Honda CRX from the dealership my Dad worked at for invoice cost ($7200!). Getting serious about success in my new field, Computer Information Systems and interviewing with companies in Oregon and Texas made me realize I was going to have to dedicate myself to work and my car had to be reliable for commuting in strange new big city far away from Fort Collins, Colorado.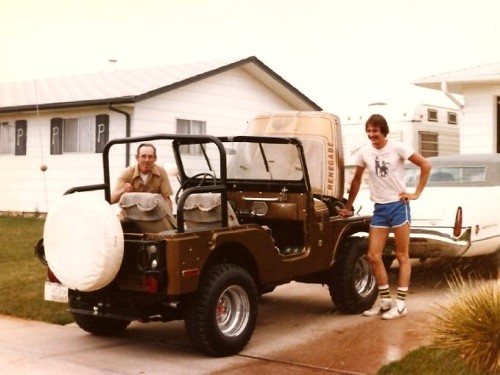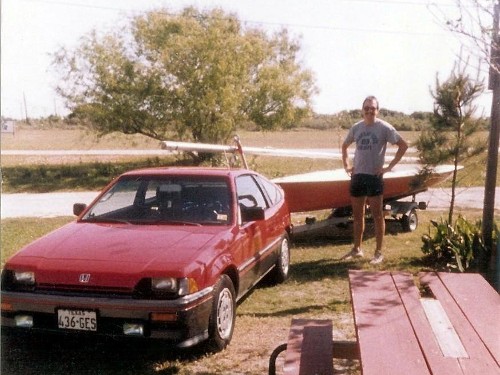 I eventually graduated from Colorado State University, amazingly cum laude with a BS in Computer Information Systems / Business Administration. After college my wife and I moved far away from Colorado, first to Houston to build refinery and chemical plant process monitoring systems for Shell Oil Company and then to Seattle to build the corporate e-mail account and telephony management systems for Microsoft. Success at my demanding jobs meant I could buy just about any new car that tickled my fancy, but with the way I was raised, I would never consider voiding the warranty on a new car to make it how I wanted. After the new Hondas, I had water-cooled Volkswagens, Ford trucks and even a Dodge minivan, but my new "store bought" cars left me left me feeling bored. I found myself missing the old days and rebuilding junks back into something I loved, that is until I was 30 and bought my first house with a 2-car garage and finding a '63 VW Beetle convertible! My professional life was spent in front of a computer as a software engineer, creating the abstract and untouchable as a systems programmer. Time spent in my garage working on my Bug during my off-work hours was how I unwound from job stress and found working with my hands therapeutic and soon more car projects followed. Now I'm retired and the software I crafted is long since obsolete and probably deleted but the cars I restored are still here. Now there is no limit to the size or scope of the restoration projects I choose to take on and the time I have to network with my many friends who are professionals in the trade. It is their skills I wish to emulate and I value their patience with me and my endless questions in my quest to improve my skills. When you read the restoration journals on my car collection, understand my work restoring cars spans the majority of my life, over 40 years and that with each one I've tried to set the bar higher and challenged myself to go deeper and understand more. I've had many, many cars over the years, but the ones in my collection that are the "keepers" and the efforts made to restore them was and is with the desire that I would be driving them for years to come and preserving them to be treasured by their next owners after they have proven to be good investments and I'm ready to part with them. When I scrutinize the work I did over 25 years ago and find flaws, it serves to remind me how much I have learned and how I must strive to keep my quality standards high because for me, my mistakes in life have been where I have learned the most. You may also notice the size of my workspace and quality of my tools have improved over the years, an indication of how much joy the folly of turning junks into jewels has given me. I've also recently taken to buying low mileage "survivor" cars because my car tastes have evolved to appreciate the patina of originality and the wave of nostalgic emotion that comes with them, like a '67 VW Beetle, '85 Mazda RX-7 and '94 Honda del Sol.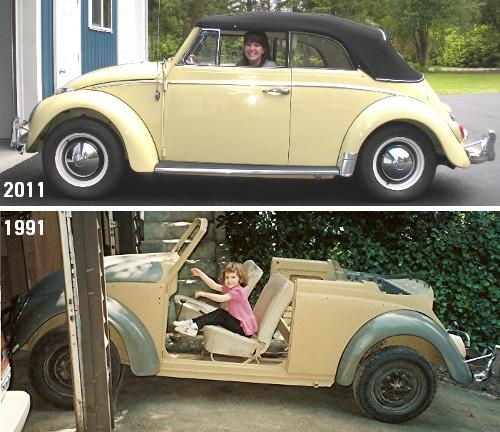 The restoration journals tell a story and are as much for my enjoyment in re-reading in future decades as they are for sharing my passion for the hobby with you now. These journals are definitely not a "how-to" guide as I readily share both my successes and mistakes so if you are looking for step-by-step instructions, sorry, you're on your own. I admit, I'm guilty of sharing information, ideas and how I approach problems but don't blame me if you end up frustrated, physically maimed or psychologically damaged, take them for what they're worth, free "digital literature" on the Internet. Also I consider myself a friendly and helpful guy so don't be afraid to contact me via the guestbook, please leave an e-mail address so I can get back to you. Thanks! Darryl